Our Fine Arts Calendar provides a comprehensive listing of recitals and concerts throughout the year.
News
---
BJU to Present Mozart's Cosi fan tutte
The BJU Division of Music, Theatre Department, and Division of Art & Design are pleased to present Wolfgang Amadeus Mozart's comic opera, Così fan tutte: Dreaming & Scheming, March 13 and 14, 2020 in Rodeheaver Auditorium. The all-student cast production is designed and directed by Mr. Jeffrey Stegall with art direction by Mr. Jay Bopp. Dr. Michael Moore conducts.
Tickets may be purchased online at bju.universitytickets.com or by phone at (864) 770-1372.
Learn more about the production here: 'I Love Lucy' Meets Mozart in Student Opera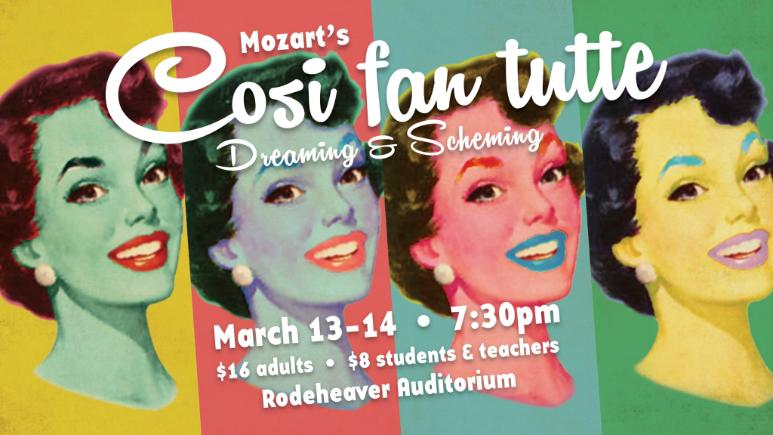 BJU Vocal Studies Department has Strong Showing at SC-NATS Classical Auditions
Several students from our Vocal Studies Department competed recently at the National Assocition of Teachers of Singing Classical Auditions for South Carolina. The following students have advanced to the regional competition: Heather Spencer, Rachel Stoner, Taylor Worley, Andrew Barr, Johnathan Swaffer, Caleb Wutzke, Caleb Felber, David Ritschard, Joy Herr, Victoria Richards, Marianne Freeman, and Sarah Harris. In addition, Taylor Worley won first place in the Second Year Classical Women category and was invited to perform on the honors recital. Congratulations to these students and their professors, Dr. Shellie Beeman, Mrs. Laura Brundage, Dr. David Parker, and Mrs. Amy Johnson!
BJU Students Named to Intercollegiate Honor Band
Each year the South Carolina chapter of the College Band Directors National Association assembles an honor band of the state's finest college players to perform in a weekend wind band clinic with a internationally renowned conductor. This year 11 BJU students were nominated and accepted; as a result of seating auditions four were named principal chair of their respective sections: Andrea Bell on flute, Matt Phillips on trumpet, Aaron Fox on French horn, and Nathan Gardner on trombone. Other BJU students earning chairs in the honor band were Jesse Boyd, Annie Castilla, Ashton Downs, Natalie Greiner, Katherine Knisley, Daniel Leedy, and AJ Steenhoek.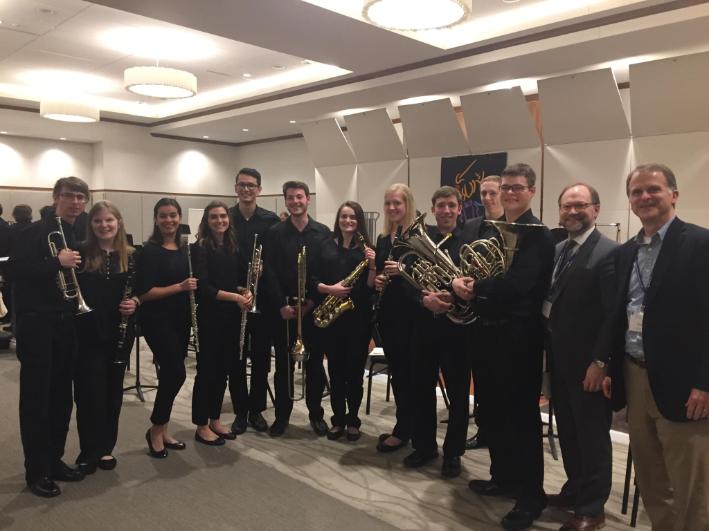 BJU Combined Choirs and Orchestra present Handel's Messiah
Bob Jones University Division of Music will present Handel's Messiah, Dec. 12 – 13, at 7:30 p.m. in Rodeheaver Auditorium.
Under the direction of Dr. Warren Cook, the BJU Symphony Orchestra will accompany over 200 singers from four University choirs. Soloists include Laura Brundage, Division of Music faculty—soprano; Marianne Freeman, senior student—alto; Jason Rush, 2010 music graduate —tenor; and Dr. David Parker, Division of Music faculty—bass.
The two performances will be presented in memory and honor of Dr. Dwight Gustafson, dean of BJU's School of Fine Arts for over 40 years, and his wife, Gwen, former music faculty. The new Dwight and Gwen Gustafson Music Scholarship Endowment was established earlier this year to provide scholarships to students enrolled in the Division of Music.
Learn more here.
SC-ETV to air Very Merry Christmas concert
The Division of Music At BJU is pleased to announce that South Carolina Educational Television will air "A Very Merry Christmas" on statewide public television as follows:
The televised concert features the Bob Jones University Symphony Orchestra and Combined Choirs along with several guest artists, including David Kim, concertmaster of The Philadelphia Orchestra. The concert will also be available for viewing at scetv.org through New Year's Day.
We trust our community of students, friends, alumni, and their families will tune in and enjoy this Christmas gift from Music At BJU!
Armenian Genocide commemoration concert now available on YouTube
The complete concert program, Panosian and the Providence of His Story, is now available for viewing on YouTube. The 2019 Bob Jones University Homecoming Concert traces the hand of Providence through story and song in a one-of-a-kind multimedia concert experience telling a tale of remembrance, resilience, and redemption in the lives of two families affected by the Armenian Genocide (1915-1920). Dr. Ed Panosian, beloved history professor at BJU for over five decades, and singer/songwriter Mariam Matossian together share an unforgettably heart-warming story of perseverance in persecution, divine protection, and the fragile but flourishing culture of a people preserved.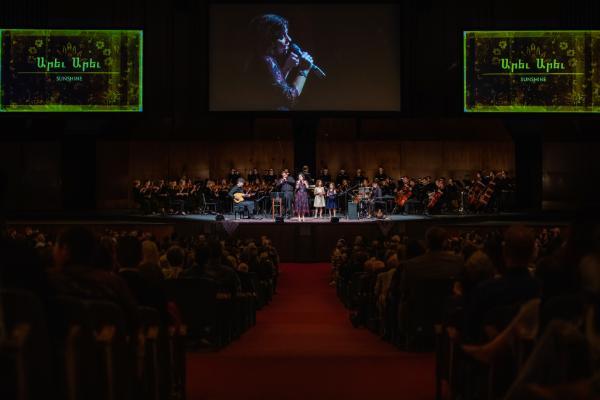 Division of Music hosts annual High School Festival and Competition
On Nov. 4–7, BJU hosted the 47th annual High School Festival & Preaching and Teaching Conference. Teens in grades 9–12 participated in individual or group contests. The week is packed with performances, concerts and the BJU experience. With 10 individual and nine group events, Music is the biggest division of High School Festival. Instrumentalists and vocalists compete in both types of events. Learn more about the festival and side-by-side ensemble experiences offered here.
Warren Cook Receives Lifetime Achievement Award
The South Carolina chapter of the American Choral Directors Association (SC ACDA) presented Dr. Warren Cook, director of choral activities at Bob Jones University, with the Lifetime Achievement Award at the Fall Conference held at Charleston Southern University on Oct. 11. The Lifetime Achievement Award is "presented each year by the South Carolina chapter of the ACDA to a choral director working in South Carolina who has made a significant impact on the field of choral music in South Carolina over the course of their career." Learn more about the award and Dr. Cook's contributions to choral artistry here.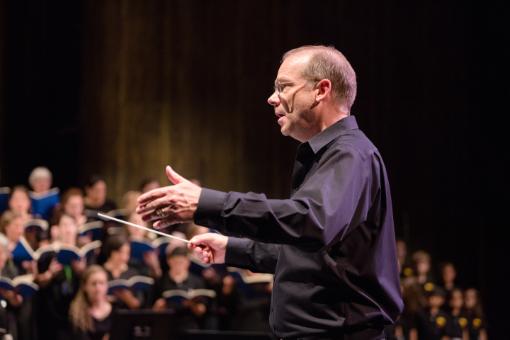 2019 Homecoming Concert to Feature Armenian Singer Mariam Matossian
Bob Jones University will present Panosian and the Providence of His Story at 7:30 p.m. on Thursday, Oct. 10, in Founder's Memorial Amphitorium. The multifaceted program combines the personal story of longtime BJU history professor Dr. Ed Panosian, whose family was forced to flee the Armenian Genocide (1915-1920), with the vocal artistry of Mariam Matossian, a local singer and songwriter with Armenian roots. Matossian will be accompanied by a small band of musicians playing traditional Armenian instruments and by the BJU Symphony Orchestra. Learn more about the program here.
Students Awarded Music Scholarships for 2019
The Bob Jones University Division of Music recently awarded 12 music students 2019 Gingery-Mack Music Scholarships which provide merit-based financial aid and study opportunities with master teachers. Those same students, along with three additional new music students, also received scholarship awards from the BJU Music Scholarship Fund. Both of these scholarship funds provide financial aid to student musicians who are committed to cultivating, refining, and applying their musical gifts for the glory of God and the good of others. Learn more here.
Division of Music Launches Gustafson Endowment
The Bob Jones University Division of Music announced today the launch of the Dwight and Gwen Gustafson Music Scholarship Endowment that will provide merit scholarships to students enrolled in academic programs and ensembles in the BJU Division of Music. Dr. Dwight Gustafson served on the BJU faculty and staff for 45 years, including 43 as dean of the School of Fine Arts. A gifted administrator, he was also a composer, conductor, actor and author. He retired in 1997. Gwen Gustafson taught as a member of the music faculty 34 years, retiring in 2000. Learn more about the Gustafsons, the founding donors, and how to contribute here.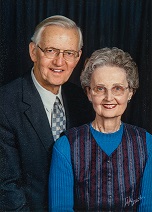 Michael Moore Named Winner of The American Prize
Dr. Michael Moore was named first place winner for The American Prize in Conducting: College/University Division for Opera in 2018-2019. In consideration for the award, Moore submitted the University's production of the tragic opera Lucia Di Lammermoor which he conducted in 2018. Learn more here.
Music Education Program Achieves Recognition
Congratulations to our Department of Music Education and Dr. Pattye Casarow, department head, on once again achieving State Recognition of Program Approval for the undergraduate music education degree. The recognition is based on an accreditation process that occurs on a 5- to 7-year cycle.
From the accreditation report: "The data indicates that the BJU Music Education candidates perform at a substantially higher level than that which is required. Secondly, the survey data from mentor teachers indicates that the student teachers are perceived to have a strong academic preparation for their teaching... The assessment data strongly suggest that candidates have positive effect on K-12 learning."
Registration open for Music Educamps
Registration is open for our Summer 2019 Junior and Senior music Educamps. These week-long camps feature a variety of fun, faculty-led rehearsals, lessons, and activities designed for student musicians in 4th through 12th grade. A limited number of scholarships are available for students who play certain instruments. Contact pjantz@bju.edu for information.
Rivertree Singers & Friends to Present Brahms German Requiem at BJU
The BJU Division of Music is pleased to host the fifth annual Rivertree Singers & Friends Choral Festival, June 20-22, 2019. The festival will culminate in a performance of the Brahms German Requiem under the direction of Dr. Warren Cook on Saturday, June 22, at 7:30pm in Rodeheaver Auditorium. Learn more here.
New Community Music Program to Launch Fall 2019
BJU's Division of Music announced today a partnership with Piano Central Studios to expand pre-college music lesson offerings to serve not only BJA's students but also the broader upstate community. The new community music program, called PCS Music Artistry at BJU, will begin enrolling students this summer for Fall 2019.
Vintage Dedicated to Dan Turner
The BJU yearbook staff announced today the dedication of the 2019 Vintage to Dr. Dan Turner, who is retiring as director of bands after the 2018–19 academic year. Learn more here.
Bruce Cox Named Director of Bands
The Bob Jones University Division of Music announced today that Dr. Bruce Cox will assume the role of director of bands and conductor of the Symphonic Wind Band beginning in the 2019–2020 academic year. Learn more here.
Music At BJU in Brevard Music Center's Overture Magazine
Look for Music At BJU on the back cover of this season's edition of Overture, the program guide for the Brevard Music Center Summer Festival. The ad features photos of visting artist David Kim and our choirs and symphony orchestra performing Dan Forrest's Jubilate Deo at Chicago's Orchestra Hall, information about our academic programs, and highlights of our upcoming season. We are thrilled to support the 2019 BMC Summer Festival this year!