Our Music At BJU Visiting Artist Program affords students opportunities to learn from and perform with world-renowned artists and pedagogues throughout the year. The series features collaborative performances, masterclasses, lectures, and private lessons for students in the Division of Music.
2021-2022 Visiting Artists
David Kim (concertmaster, The Philadelphia Orchestra), September 15-17, 2021
Richard Kaufman (GRAMMY award-winning conductor), October 4-7, 2021
2020-2021 Visiting Artists
David Kim (concertmaster, The Philadelphia Orchestra), September 30-October 1, 2020
Richard Kaufman (GRAMMY award-winning conductor), October 22-26, 2020, March 22-25, 2021
Carmen Cancél (sporano), February 1, 2021
Tamra Grace Jones (soprano), March 31-April 6, 2021
2019-2020 Visiting Artists
Phil Gingery (tenor) and Christa Habegger (piano) October 11, 2019
Nicholas Robertson (piano, Samford University) October 14, 2019
Andrew Sords (violin) and Daniel Overly (piano, Indiana University) October 16, 2019
Ellie Wee (cello, Appalachian State University) and Barry Salwen (piano, UNC-Wilmington) October 26, 2019
Hyery Hwang (vocal coach, University of Memphis) November 11-13, 2019
Adam Frey (euphonium, University of North Georgia) December 3-6, 2019
David Kim (concertmaster, The Philadelphia Orchestra) February 3-4, 2020
The Masterson Ensemble, February 7, 2020
Matthew Edwards (piano, Missouri Western State University) February 8, 2020
Roman Plazcek (cello) April 4, 2020
Past Visiting Artists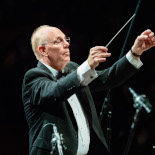 Richard Kaufman, conductor
GRAMMY Award-winning conductor Richard Kaufman has devoted much of his musical life to conducting and supervising music for film and television productions, as well as performing film and classical music in concert halls and on recordings. He is in his fourteenth season with the Chicago Symphony Orchestra concert series, CSO at the Movies. The 2017–18 season marked Kaufman's twenty-eighth as principal pops conductor laureate of the Pacific Symphony, and he holds the permanent title of pops conductor laureate with the Dallas Symphony. In May 2015, Kaufman made his conducting debut with the Boston Pops, substituting for John Williams at the Annual Pops Film Night. During the summer of 2016, Williams graciously invited him to share the podium at the annual Film Night at Tanglewood. Kaufman regularly appears as a guest conductor with symphony orchestras throughout both the United States and around the world, including Cleveland, St. Louis, Liverpool, the RTÉ Concert Orchestra in Dublin, Indianapolis, San Diego, and the Royal Scottish National Orchestra. Over the last year he has enjoyed critical acclaim for his debut performances with the Iceland Symphony Orchestra in October, the New York Philharmonic, the Phoenix Symphony, and the Leipzig Gewandhaus Orchestra.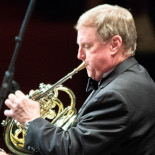 James Thatcher, horn
Having played in over 3500 motion pictures, television shows, documentaries and video projects, James Thatcher has charted a star-studded career that includes Oscar-winning films, Emmy Award shows, live concert performances and studio recordings with legendary entertainers. The National Academy of Recording Arts and Sciences (The Grammy organization) honored him with the prestigious "Most Valuable Player Award" given to the outstanding instrumental musician. Thatcher continues to be one of the most sought-after French horn players by the top composers in the motion picture and television industry, as well as major symphony orchestras around the world. His unforgettable performances of John Williams' scores can be heard in Jurassic Park, Schindler's List, Amistad, JFK, and Home Alone, among many others. In the words of John Williams, "I treasure the many years of our collaboration. Through those years you consistently brought color, imagination and life to every note that I've been privileged to ask you to play, and musically and artistically, I will always be in your debt."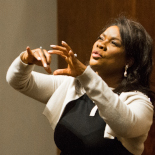 Denyce Graves, mezzo-soprano
Recognized worldwide as one of today's most exciting vocal stars, Denyce Graves continues to gather unparalleled popular and critical acclaim in performances on four continents. Her career has taken her to the world's great opera houses and concert halls. The combination of her expressive, rich vocalism, elegant stage presence, and exciting theatrical abilities allows her to pursue a wide breadth of operatic portrayals as well as delight audiences in concert and recital appearances.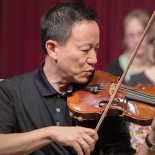 David Kim, concertmaster, The Philadelphia Orchestra
Violinist David Kim was named Concertmaster of The Philadelphia Orchestra in 1999. Born in Carbondale, Illinois in 1963, he started playing the violin at the age of three, began studies with the famed pedagogue Dorothy DeLay at the age of eight, and later received his bachelor's and master's degrees from The Julliard School. Mr. Kim appears as soloist with The Philadelphia Orchestra each season as well as with numerous orchestras around the world. He also appears internationally at festivals such as Brevard, MasterWorks (USA), and Pacific (Japan). He frequently serves as an adjudicator at international violin competitions such as the Menuhin and Sarasate.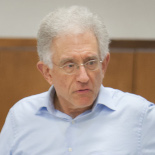 Michael Haber, cello
Cellist Michael Haber graduated with high academic honors from Brandeis University with a degree in European History. He did his graduate work at Harvard and at Indiana University. His principal cello teachers were János Starker, Mihaly Virizlay and Gregor Piatigorsky. Mr. Haber was a member of the Cleveland Orchestra under George Szell and the Casals Festival Orchestra under Pablo Casals. With the Orpheus Chamber Orchestra, he toured and recorded throughout Europe, the USA and Asia. He was the cellist of the Composers Quartet, in residence at Columbia University in New York City, and of the Gabrielli Trio. Among the schools and festivals where he has been on the cello and chamber music faculties are Oberlin College, Indiana University, the New England Conservatory of Music, the Eastman School of Music, Boston University, the University of Akron, Aspen, Marlboro, Yellowbarn, Aria and the Manchester Festival. For 10 years he was the coach for the cello section of the New World Symphony in Miami Beach and has presented masterclasses at universities throughout the USA, and in Australia, New Zealand, Egypt, Turkey and Switzerland.